<![if !vml]>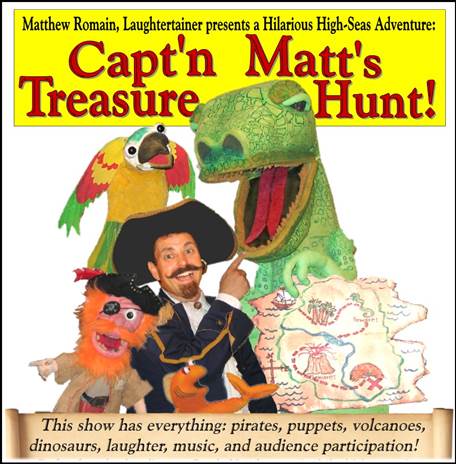 <![endif]> Capt'n Matt's Treasure Hunt is a fun, interactive one-man puppet show in which the audience helps to track down the elusive pirate Stink Beard who has stolen the treasure. The theme of the show is books and reading. The "treasure" we are after is the captain's giant magic storybook, which we find after a musical adventure to different islands and meeting many comical characters.
Audiences are enchanted by the book's big pop-up pages, as it tells the story of our adventure of finding the book; a story within a story kind of thing. The children leave with the idea that stories come from their own life experiences, and that each child is a story in the making.
The show runs one hour, promising laughter, music and audience participation.
Capt'n Matt's Treasure Hunt has been presented for hundreds of audiences with raving feedback from community audiences, teachers, students, and parents! A teacher's guide is available full of class activities, reading list, and resources for unit building!
For more information or to make a booking, call Mathew Romain –Laughtertainer at 519-997-5730.
E-mail Matthew at puppet@mnsi.net <![if !vml]>

<![endif]>
VIDEO CLIPS